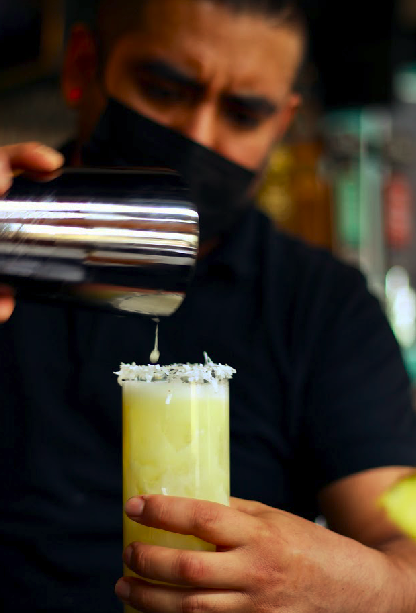 By Jennifer Bustamante
As a Mexico City native nothing gives me more pleasure than to introduce you to one of the very few places in San Diego that honors the authentic cuisine of Mexican dishes. Cocina de Barrio in Hillcrest is a hidden gem that is now emerging from best kept secret to a regular favorite for locals and visitors alike. Your experience begins with a delightful entrance reminiscent of Mexico's arboledas with tile floors and iron arches. Music that will enhance your senses without overpowering the space so that conversations with good friends can be enjoyed.
You can begin your adventure with one of their unique drinks made with Mezcal, if you have not tried this exotic spirit yet you will be in for a smokey indigenous affair. We recommend El Fresco de Granada made with pomegranate juice, or the spicy Soleado Picante featuring jalapeño infused mezcal. Appetizers will not disappoint you- you can try their Ceviche de Robalo & Xoconostle made with prickly pear and lime-cured striped bass, and who can resist their authentic Quesadillas de Huitlacoche made with mole negro and epazote. For the main event make sure to try their Costillas en Salsa Verde, the combinations of flavors are bound to cause a fiesta in your mouth. Their original ingredients and unique recipes is truly what separates them from the rest, their Executive Chef Jose J. Flores brings the Oaxacan tradition to the table without flaw.
If you haven't had much opportunity to travel during our limiting traveling restrictions, visiting Cocina de Barrio takes you directly to Oaxaca where flavors, music and friends come together.
Cocina de Barrio
3707 Fifth Avenue
San Diego, CA 92104
619-677-2770
www.cocinadebarriohillcrest.com