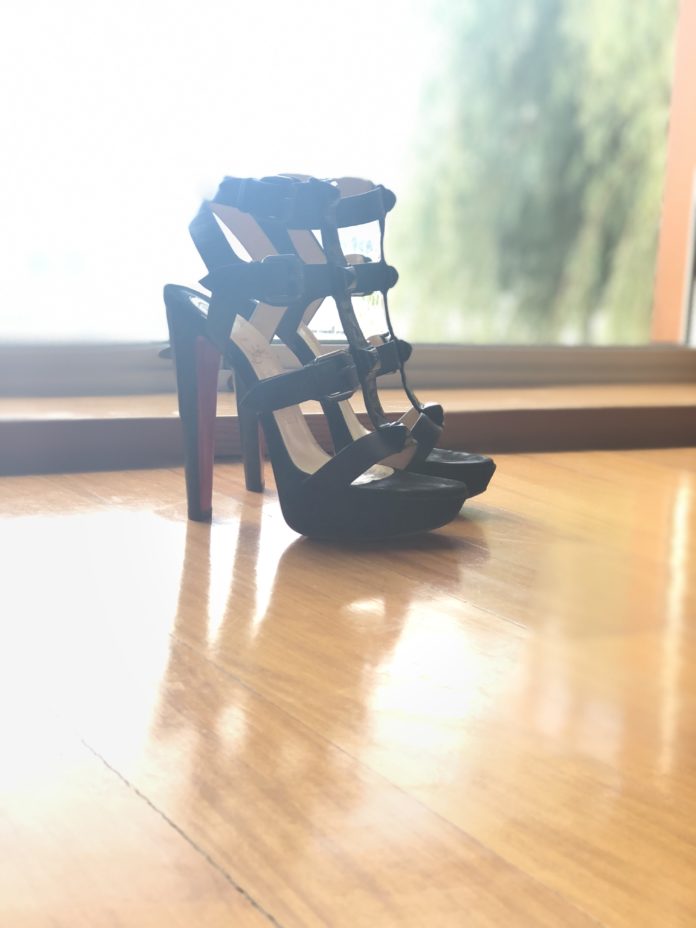 Beautiful, Strong, Bold, Feminine, Unexpected, Unique, and Surprising- that is how Yolanda Selene Walther-Meade describes her favorite pair of heels, and looking at them I can tell you not many people have what it takes to wear them. In Yolanda Selene's words, "If you have these shoes you have to own them, and own where you are going- but most importantly, you must have the substance to back them up". Yolanda Selene first wore this pair at the grand opening of the new Nordstrom store at UTC where she was part of the Honorary Committee that ensured a sold-out event that raised over $100,000 for two San Diego charities. At this event, where the Nordstrom family members, Bruce, Blake, Peter, and Eric made an exclusive appearance, Yolanda Selene was at the forefront standing strong, of course, in these babies.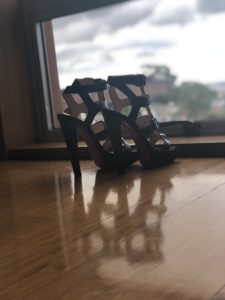 Yolanda Selene's character is every bit as these shoes, and every step of her life adds to her strength as much as to her story. At age 16, living in Tijuana, she was accepted to study abroad at an Ivy League school when an unexpected turn of faith changed her future. The passing of her father at this young age, yet the oldest of 5, she remembers being excited for such an opportunity and yet not being able to take advantage of it. She felt the responsibility to stay home to help support her mom in raising her siblings, and to make sure they all went to college and made a life for themselves. She started her own business translating and interpreting, in the face of this ambitious goal she remembers thinking "I can do this", and she was determined to be the best at it. She soon became the premier translation provider for six border states in Mexico and four in the U.S. covering every issue on the bilateral agenda. She earned the title of "The Voice of the Border", and had under her charge important contracts such as Head of State visits in which presidents of both countries met. Her career involved heavy traveling and weathering controversial and polemic political issues where she had to remain focused, strong, and at the highest professional level in order to maintain and increase her government contracts. In a field where Latina women are normally discriminated against and competition is fierce, she proved to be even more fierce. For her it was important as a woman to be recognized for her expertise, knowledge, diplomacy, and tact, always aware that what she was doing transcended everyday issues.
She married and had two beautiful children, Carlos and Andie, whom she has tailored to be young leaders and just as philanthropic as herself. After a difficult divorce, she found herself in San Diego starting from zero and working hard to make a home for her children, to ensure their well being and to guide them to have the greatest opportunities. With nothing left to lose she pulled herself up by the stiletto bootstraps and conquered the world of media once again. Today she is a highly coveted media and marketing expert, representing some of the most elite high profile businesses in San Diego and Baja.
This very strong Latina is a gem of our region, every project she touches is guaranteed to succeed because she has the intrinsic commitment that there is no other option but to achieve. She does this by working to her strengths, evolving and transforming herself relentlessly to the next level. Her message is clear, know where you come from and what you can achieve. "You have to have faith in yourself, you are your most important cheerleader and advocate, look within you, be authentic, smile through the tears, play to your assets and NEVER TAKE OFF THOSE HIGH HEELS"