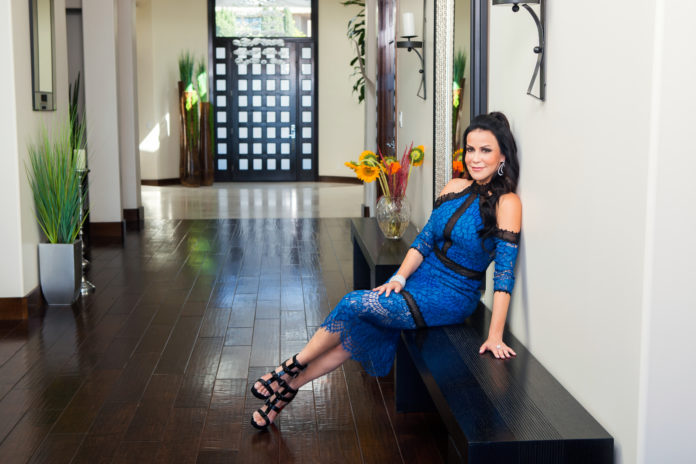 "All of us can be an everyday activist, we can and we should- it's our privilege and duty"…-  Yolanda Selene Walther-Meade
The concept of human rights is such a common sense idea that it is hard
to believe that we have yet to come together as a country to prioritize the basic rights and needs of our people. Celebrando Latinas Magazine had the opportunity to spend some time with a long-time San Diego leader, Yolanda Selene Walther-Meade who shares with us her innate need to do something to help children separated from their undocumented families.
Yolanda Selene, born in San Diego and raised on both sides of the border,
has an extensive history of binational experience. Known as the Voice of the Border, she has served as media liaison and interpreter in head-of-state visits by Mexican presidents, Pulitzer Prize winners, and Nobel Laureates. Her expertise includes bilateral initiatives at the federal, state and municipal levels encompassing everything from education, immigration, counter bio- terrorism, infrastructure, environment, human tracking, arts and culture and more. She is a founding member of the Club de Niños y Niñas de Tijuana and the Fundación Internacional de la Comunidad. At the San Diego Foundation, Yolanda served on the Board of Governors. Yolanda currently serves on the Advisory Board of the Berry Good Food Foundation, as Founding Ambassador for the Ronald McDonald House Dia de Alegria.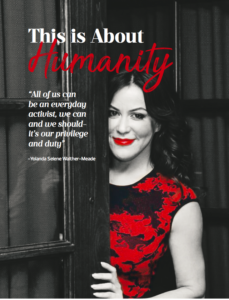 The project This is About Humanity sprouted out of the unexpected and highly disturbing aftermath of the current presidential administration's order to separate families and unaccompanied minors from their undocumented parents. The movement is focused on raising awareness and funds for the humanitarian immigration crisis, working with Casa Cornelia Law Center and Immigrant Defenders Law Center. Yolanda Selene joined forces with her sister Elsa Collins and Zoe Winkler, daughter of actor Henri Winkler (The Fonz), to spearhead this effort where they use the voices of strong influencers to spread the message to the nation regarding the injustice and potential danger these children face. Issues such as mental health, malnutrition, trauma and the ramifications of these as they grow up unprotected. Together they produced a private dinner with Hollywood A-listers to raise funds, the event sold out within a month.
Through their efforts, they have been able to marshal resources and direct attention and funds in support of these children, including legal aid to ensure a safe reunion with family. Along with their team of volunteers, they have been able to harness efforts for activities such as comfort care backpack drives, Amazon wish lists or something as simple as books and toys to provide them with a small bit of normalcy. In some instances, even interacting with children has provided a connection for children on a very trying journey for their tender ages and limited understanding. Although activist organizations have made some progress in stopping these family separations, there are still a large number of children who have not been reunited with a family member. Organizations such as ACLU, Casa del Migrante, FwdUS in Washington, DC, Immigrant Defenders Law Center, Casa Madre Assunta, Al Otro Lado and Border Angels, among others, are all collaborating one way or another to give support to these children and all immigrants.
As the holidays approach, you too can help this movement by following Yolanda Selene's campaigns of facebook, following #thisisabouthumanity, or reaching out to any of these organizations. Volunteers or in-kind donations including toys or food are always welcome. There is always a way to contribute, as Yolanda Selene herself says: "Everyone can give TIME, TALENT OR TREASURE"