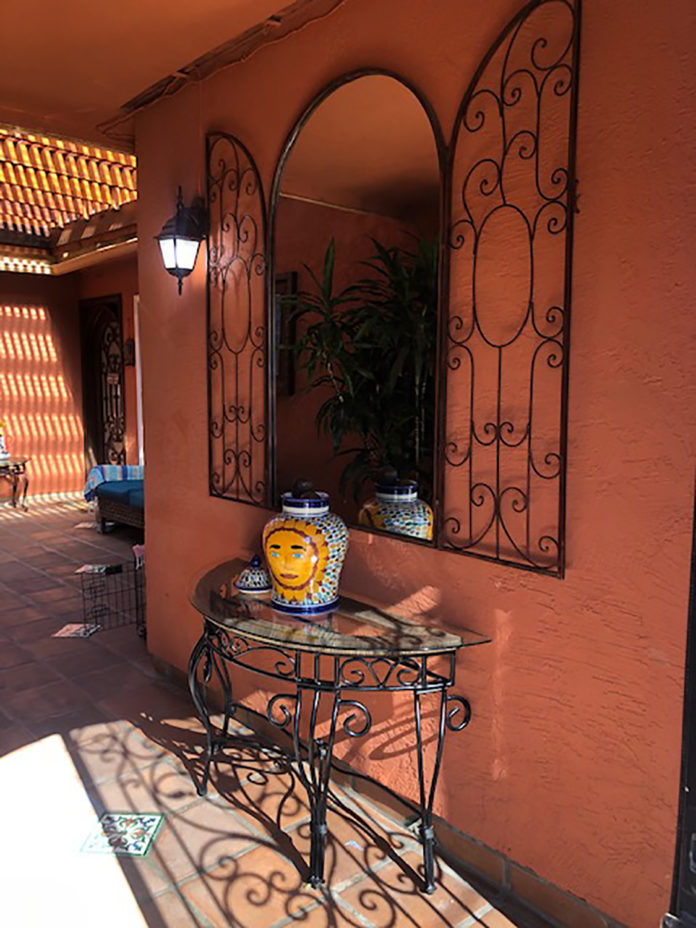 With the holidays coming nothing is better than spending time with friends and family, this cannot be more true than for Chula Vista couple Ceci Cazarez & Jose Cano. Their welcoming nature is evident in every corner of their home, and they opened their doors to Celebrando Latinas Magazine to share the special magic, and superstition that makes their home so rich in culture and character.
Ceci bought her home in West Chula Vista in the summer of 2000. She was a single mom with the sole dream of leaving a legacy for her son. She had not met Jose yet. While looking for a house she faced challenges with her real estate agent and was forced to fire him, but didn't lose hope. Her unique positive attitude didn't dampen her spirit, and as luck would have it, she met a realtor at a friend's party who was about to list this foreclosed property as a short sale. They went to see the house that same day, and Ceci was sold. While the house was uninhabitable, she saw the potential and set out to make it the best version it could be. The house was never listed, she bought it before it was even advertised.
When Ceci and Jose married in 2007 they continued their work in this home and after much love and work, the house was remodeled; she even added a granny flat, and now a second apartment unit. Today she gets an offer to sell every week because of its beauty and its revenue generating power.
The main house is completely new, it is considered built in 2019 This is because one awful night the house caught fire. In 2018 Jose got up in the middle of the night because the security alarm went off, but when he got to the kitchen and the lights were not working he realized something was terribly wrong. He heard their puppies crying in the garage and as he went to check them he noticed the smoke, when he opened the door the garage had a backdraft launching Jose away as the flames ignited. He ran to wake up Ceci and their live-in exchange student, who tried calling 911 but the call was mistaken for a prank since the student's phone was registered in Switzerland. It took the Fire Department 24 minutes to arrive, even though the station is merely a mile away. Ceci and Jose unfortunately lost their puppies inside the garage, something that broke their heart and was very traumatic, and they still remember with great grief.
From the ashes of the fire they started to rebuild the house and they poured their heart in every decision. One can see the indoor theme that resembles her European heritage from Ceci's side, so there is a strong French Provincial ambiance. While the outdoors honor their Latinamerican roots with a kitchen built in honor of their mothers, properly named "Cocina de Mamá" (Mom's kitchen), an hacienda inspired outdoor kitchen with the most high-end appliances to properly entertain large groups of friends.
Their garden is a real paradise with a lemon tree, a papaya tree, kumquats, aloe vera plants and peppers. But you are welcomed into this garden by a carefully landscaped jasmine tree in the shape of a heart. This is because Ceci's mother planted it with her brother in 2001, both have now passed away. When they were informed that the tree was not transferable they hired an arborist and paid almost two thousand dollars to get it relocated after the fire. Jose keeps in a heart shape in honor of them.
In La Cocina de Mamá you will find a treasure, an original talavera set authentic from Puebla, made by the craftsmanship of the Familia Uriarte, who established the production of this artisanal artwork in 1850. Each piece has a serial number.
Ceci and Jose spend half of their time outside with friends and family. They have music playing, and love to entertain. They take great pride in that every single piece was handpicked by them, down to the tile that depicts two birds; one with a pompadour meant to be Ceci, and one bringing a branch home, meant to be Jose.
Their house is a venue for the community, they hold fundraisers and events that benefit the community because they truly believe that helping our community is paramount. Their home is a place of love, one that they share with everyone who they encounter.