Celebrando Latinas 2018- Live Your Dreams brought us a special feature this year, a panel with some of the strongest business leaders in San Diego. The opportunity to learn from these women was a gift to all of us, and we bring you a recap of the highlights so that you can practice their advice, whether you had a chance to experience it or missed out on it.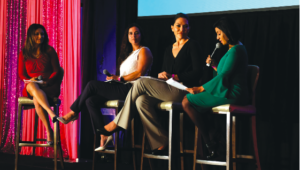 Our panel included Paola Avila, Vice President of International Affairs of the San Diego Regional Chamber of Commerce; Nancy Maldonado, Senior Program Manager for the Chicano Federation of San Diego County; and Sarah Lopez, Owner of Freshly Prepped. Each one of these women has an impressive background in their professional fields, their journeys have been forged by work and sacrifice- nonetheless, each one will tell you they wouldn't change a thing and they have enjoyed every step of the way.
Paola shared with us the importance of developing and maintaining business relationships throughout your career, even if you have disagreements with someone it is important to not burn any bridges and learn from the relationship. She shared with us that past relationships have opened doors to her even years later, doors that led to her current position with the chamber of commerce. In regards to being a Latina in the Boardroom, which is very often her case, she shared with us that it is imperative that we take our place and not be afraid to speak up with confidence and commanding attention. We need to be certain of the work we have done to earn that seat at the table and we must take it fearlessly.
Nancy who is currently operating as a Pro-tem CEO for the Chicano Federation gave us her perspective on harnessing leadership roles as a Latina in a white-male-dominated field and connecting to your purpose in order to lead in the non-profit environment. Nancy has an impatient need to move forward and this transcends into her role as Senior Programs Officer at the Chicano Federation, an organization that has a direct impact on Latino communities in San Diego. She is not afraid to speak up and invites us to find our own voice to do the same in our own fields. She knows first hand how difficult it is to share your vision in a group where men dominate and to make your point valid, she emphasizes the need to be over-prepared since women need to work twice as more to acknowledge half as much as men. Her drive comes from knowing that her work makes a difference in the most vulnerable families and being a role model to her son.
We also heard from Sarah who shared with us, in a very vulnerable manner, her secret of relentless faith for balancing a very busy life (with 5 kids) and two successful enterprises. Sarah's journey has been long and challenging, but she shares with us that her faith in God has always guided her and kept her strong. Regardless of your personal beliefs and religion inclination, faith is indeed a key factor in the risky field of entrepreneurship. She has successfully built two businesses along with her husband, and she shares with us that to help keep the balance communication is the main ingredient. Letting her family know when she has to focus on the business and letting her business partners know when she has to focus on her family. Being fully present in everything she is doing has made the difference in keeping both worlds balanced.
We celebrate these women who agreed that they are now living their dream, and even though there is still a lot of work and challenges in their careers, they know that loving what you do and knowing your purpose for doing it makes it all worthwhile.