The Art of Freedom/ The Freedom of Art
I recently reconnected with Inocente at Pura Vida café in Barrio Logan, and I was blown away by her light and energy. We visited Chicano Park where she shared with us many of her memories, for example sleeping under the bridge where the Virgin Mary mural is. We also enjoyed swinging together in the playground. Then we drove around the neighborhood as she described her favorite food when she was a homeless kid with her mom who would go to the corner tortillería and buy tortillas, then buy beans from the spot next door and eat bean tacos with salsa verde.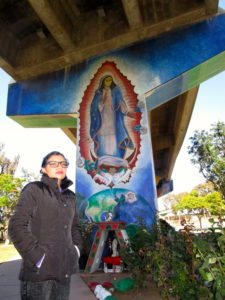 She was only 15 years old when her art, a painted cow, caught the attention of a UT reporter- and this was about to change the life of a girl that was lost in the crowds, in the system, just another statistic. Almost 10 years later she emerges with a renewed energy, an empowered spirit and a relentless mission to bounce back and disrupt the system. This 5 foot tall, 100lbs lady holds inside a life of color, hope, inspiration and magic- her work speaks of fantasy, beauty and love. Her story could easily inspire darkness but she chooses to bring happiness, and life. Her goal? To use her new found power to fight the silent fight of homeless youth.
Two Washington D.C. filmmakers who saw the featured cow on the UT,  and upon learning of Inocente's story, invited her to be part of a documentary.The documentary focused on the lives of people who had to overcome great challenges, at the end of the project it was her story alone that was featured. It speaks of her life as a homeless youth in a foreign country where her father abandoned her, along with her mother and two siblings after years of abuse. Undocumented, with no family, and nowhere to go, they moved around in shelters and often slept under the bridge in Chicano park. She endured cold, hunger, bullying and all the dangers from living in the streets. The documentary, available in iTunes, speaks of the way she used art to save her life and channel her emotions. Her resilience in overcoming what for many would have been a life of hate and destruction, addiction and possibly crime. When the film won an Oscar this gave her the opportunity to see a world she never thought she would see. She met celebrities and producers, and she traveled not just to Hollywood, but Alaska, New York and many other places. This opened her eyes to a world of possibilities and through her art and her experiences she began her work of public screenings and talks to bring light to the challenges of homeless youth.
I met Inocente about five years ago when she participated in a festival I was organizing, at the time her Academy Award Documentary had spun her life into a whirlwind of fame and notoriety one would expect from such an experience.  Still, she was humble, and kind and open to working with the community painting a mobile mural with guests. I wanted to know what she had been doing, eager to hear about her new art, exhibitions, and upcoming projects, I was blown away by her response: "Well, I'm getting divorced, and I just got out of jail". Needless to say I was beyond intrigued. Less than a year ago she married with the promise of somebody who would take care of her, love her and honor her. This, after the life of struggle she had had, sounded like a wonderful gift, a well deserved break and, it was all her mother could ever wish for her. The fairy tale soon turned into a nightmare as her husband revealed his abusive nature, controlling her, and constantly abusing her emotionally and physically. She called the police for help and ended up in jail herself for "domestic abuse".  After a week in jail, she learned that this kind of injustice was happening to other women as well, and this has been the force behind her renewed will to disrupt the broken system that has destroyed so many lives.
Her humble demeanor is such an example for all of us, her talent is evident and her passion bleeds into her work and her words. I asked her what was she planning to do now and her response was as powerful as thunder: "I'm going to Bounce Back!" "Start Over!" Her focus? Homeless youth, immigration rights, domestic violence and speaking up for women. I saw in her the strength of a woman, she is no longer that little girl that was taken advantage of. She knows it's an uphill battle, and she is not afraid. I believe that this young lady has much to give us, much to teach us, much to change. She has already begun planning screenings of her documentary, as she explains to Ruben Torres on his podcast CONNECTED "Every year there is a new generation of youth that needs to see this" "As long as we have this problem (homeless youth) this film will be relevant".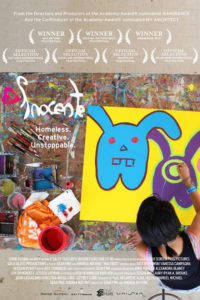 Towards the end of our time together we inevitably visited the bridge on Imperial which recently gained a lot of attention when the City of San Diego spent tax dollars to install sharp rocks with concrete on the sides of the sidewalk under the bridge to drive away the homeless. Where can they go? She asks, but there is an empty answer she knows all too well, but one she is prepared to find no matter what it takes. We celebrate Inocente as a Latina that speaks for those who can't.