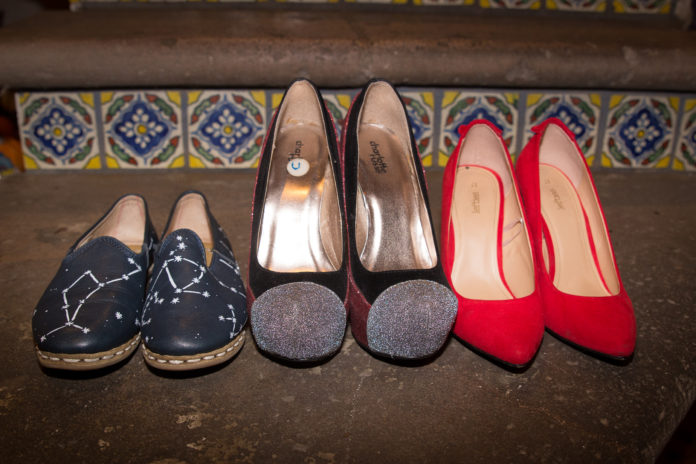 If shoes could speak? What would they say? I love to imagine the stories they could tell, the secrets that they keep and the places they have been. In this edition of In Her Shoes I am excited to show you how very loudly the shoes of these three women speak of their captivating personalities, and the reflection of them in their own lifestyle.

Bibi Uribe's favorite pair of pumps are dazzling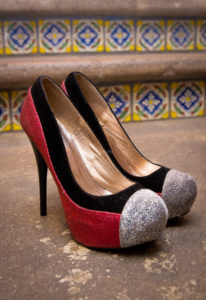 and bigger than life, yet elegant and unique in their design. Bibi's life has been a journey of a thousand steps taken with elegance and a unique approach for balancing a home life and a broadcasting career. In many ways she has had to be in front of the cameras displaying the image of a strong woman to connect with her audience and inspire them. Yet her behind-the-scenes life was one full of the challenges that come from motherhood, housewife and the broadcasting industry. She has managed to walk tall at all times focused on her personal mission to inspire women and improve the life of her viewers through her ability to bring out the best of her guests that speak of all the aspects of daily life that many women face.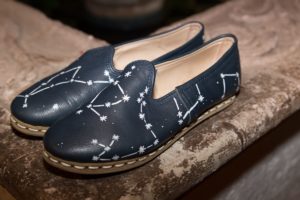 Fernanda's favorite shoes could be nothing less than her own creation, her artistic nature bleeds throughout every aspect of her personality and her steps could be no less. This pair is inspired by her Constellations pieces from her Punto Verde collection. It makes perfect sense for this world wanderer who, from a very young age, has explored the world in search for her spirit. Having walked through Germany, Japan, Italy, and now New York Fernanda's journey has just begun and for her the world is truly her oyster.
Daniela's choice of solid red classic high heels could not be more on-pointe. They truly represent her sense of determination, definition and solid character. The classic red is reflective of her daring disposition and the classic manner in which she carries herself. Daniela knows what she wants and she's not afraid to go after it.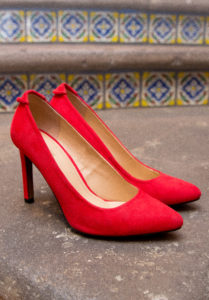 She was only five when she discovered her call for medicine by sneaking into the morgue of the hospital, she walks through life unafraid, and her pair of shoes scream her determination.
These women have reignited my own passion for shoes and the stories that they tell, and knowing the roads these women have chosen is both fulfilling as to Bibi's history and promising from Fernanda's and Daniela's stance at this point of their careers.