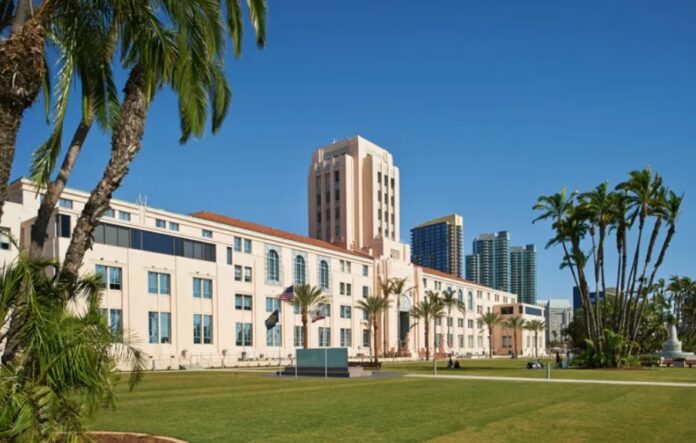 En número 10 del rubro de Industria de Servicios Gubernamentales, y en el lugar 182 general, se coloca el Condado de San Diego en la lista de los Mejores Empleadores de Estados Unidos 2023, publicada por la prestigiada revista Forbes, siendo el único Condado del país en aparecer.
Otros empleadores californianos se ubican entre los primeros 50 mejores empleadores en el país, tales como In-N-Out Burger, logró el noveno sitio de la lista general; Google California en el lugar 11; Trader Joe's, en el sitio 16; seguido de Salesforce.com en el lugar 17; en el 35 Live Nation Entertainment ; Apple California en el 36 y Cisco Systems en el 37.
Destaca en este listado UCLA Health en el lugar 21 y en el lugar 33 University of California, San Diego.
La lista general la encabezan Massachusetts Institute of Technology, de Massachusetts; Houston Methodis de Texas y Mayo Clinic de Minnesota con el primero, segundo y tercer lugar, respectivamente.
Forbes trabaja esta lista anual, en asociación con Statista, la cual obtiene luego de pedir a unos 45 000 trabajadores estadounidenses, de empresas nacionales con más de 1000 empleados, que califiquen su disposición de recomendar a su propio empleador a amigos y familiares.
De acuerdo a los detalles de la publicación sobre el método de la consulta, en total, 1000 empleadores (500 empleadores grandes y 500 empleadores medianos) fueron reconocidos en 25 sectores industriales diferentes.
Precisa también que los "Grandes Empleadores" se definen como aquellos con más de 5,000 trabajadores; mientras que aquellos con 1,000-5,000 trabajadores se definen como "Empleadores medianos".