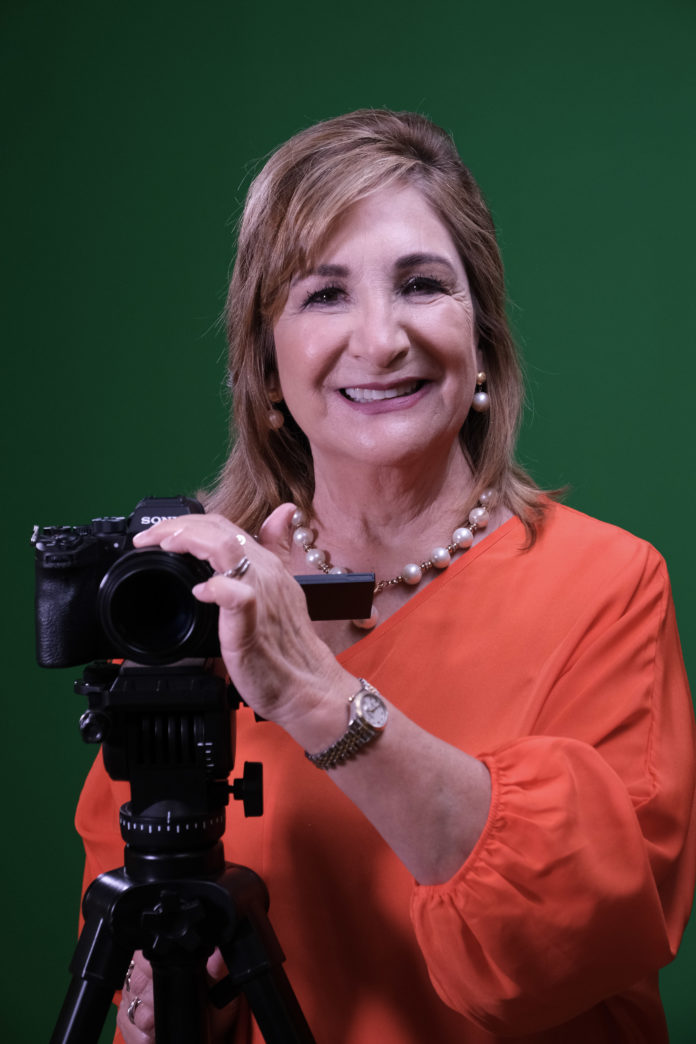 A Regal and Visionary Woman
The 2020 Census revealed that in California the Hispanic population represents for the first time a majority; in San Diego, one in three inhabitants is Hispanic.  Hispanics are a loud and clear voice that not only contributes financially but highlights our culture and values.  One such pioneer of the Latino legacy is Patricia Alvarez de los Cobos, President and CEO of Energy Communications, Corp.  Her work for more than thirty years has opened the doors to many clients to bring their products to the Hispanic market, in their own language, with integrity, perseverance and a great vision. In an interview with Celebrando Latinas Magazine, Patricia shares her journey and the experiences that have motivated her to move forward.
A Binational Origin
Born in Quincy, Illinois, her mother had the vision to register her children as foreign-born U.S. citizens, a decision that would sow Patricia's future in this country. As a child she attended Colegio Francés del Pedregal, a religious school in Mexico City with high academic expectations and multicultural foundations. Patricia tells us that she still frequents her childhood and youth friends that she created there. When she graduated from high school, Mexico was in a very difficult social situation for students, the protests of '68 and the conflicts experienced by academic institutions were not optimal. For this reason, Patricia decided to work as secretary of the President of Hilsa, a very large thread factory; she was able to do this because in high school she enrolled in the stenography workshop. She feels that although it was very good to start a professional life, it was a bit of a mistake as she sacrificed her studies for work. At that point she decided to go to Europe for a year. Upon her return, she worked for a pharmaceutical marketing firm called Interdata, a company based in Switzerland, where she discovered her passion for marketing. Interdata is a pharmaceutical market research company where she learned to make sales and promotional presentations to major laboratories, and her efforts caught the attention of one of the laboratories where she continued her career. Although her professional career was developed in the pharmaceutical field, life had other plans for her. One of her best friends had married Mr. Jose Luis Guasch, who invited her to come to San Diego to start the company she currently runs, starting in March 1989. Patricia arrived in San Diego without knowing anyone, with her family far away, but with a spirit of adventure and open to new experiences. Next to her friend Pascal and Mr. Guasch, Patricia started out of nowhere, rented an apartment and rolled up her sleeves for the new project she was facing.
"We started from nothing, we were the pioneers, it was a beautiful experience. We have seen the market grow with Televisa Canal 12 and other television and radio stations. The industry has been transformed and we are still standing."
The Beginning of a Legacy
Together with a team enviable for their knowledge and dedication, and who have been part of the company for more than 10 to 30 years, some of them from the beginning, they have created the family that we know today as Energy Communications.  They have always had the bi-national vision and have adapted superbly, always working together. The magic of Energy Communications' success has been precisely the synergy with which all those who are part of the company work. Energy Communications has been an important representative for Televisa, promoting television stations, creating events in the community, publicizing the importance of Televisa and its programming. On the other hand, one of the most important objectives of Energy is to represent Televisa as the great company that it is; Televisa is the most important producer of content in Spanish in the world.  In the San Diego market and El Centro-Yuma, they have more than 7 television stations that serve the border market.  Energy Communications has been the exclusive representative of Televisa's stations in the border region, promoting them to American customers in these stations, thus demonstrating their value of them.
Patricia shares with us that her mentor, Mr. José Luis Guasch, was the one who had the vision of establishing a presence of Hispanic stations in San Diego,not only through the signal that reached many telehomes over the air, but to transmit through Cox Cable, and other companies with cable services at that time, and thus bring the programming to Spanish-speaking people. Mr. Guasch had the vision to create at the right time, Televisa stations were the only ones in this market. Currently, XERWT Canal 12 is the only local Channel in Spanish with 4 newscasts and more than 60 hours a week of one hundred percent local production that reaches both sides of the border.
This vision needed someone like Patricia, she always had the bicultural identity. Growing up she spent Christmas here with her family, celebrating the different American traditions such as Thanksgiving. She grew up with both cultures and in launching this project she always had the vision of attracting a bicultural and fully bilingual team. Achieving that fusion of the two cultures has not been easy, she tells us, it has been a journey with great rewards. An example of this fusion was when in the nineties Televisa put together a concert at Sea World with Ricky Martin and other groups. Sea World, which at that time had an amphitheater, was filled to such capacity that the event was not only a success but a logistical challenge for the American culture that was not accustomed to this size of a crowd. Over the years it has been possible to understand the American and Hispanic mentality by finding options; Mexican ingenuity, based on the challenges of a country where everything can be adapted.
"That's the beautiful part, the fun part where we're still Mexicans with an American heart and Americans with a Mexican heart."
The Communication Industry
Patricia tells us that, although the platforms to receive the content produced by networks or TV stations have diversified in recent years, the production of content is still very important. In this sense, there is still a vital space for promotions, content, and programming. Creativity is very important to excel in this sector, and Patricia's visionary nature leads her to success. Energy Communications Corp. received two Emmy Awards in 2019 as well as two Addy's Awards, for producing "Novelitas" segments for Sharp Healthcare. A unique promotional campaign in which his team took on the task of finding a way to learn about health through novels. The telenovela genre is part of the DNA of Hispanics, and Patricia and her team had that vision and creativity to tap that model.
Latina – The Real Challenge
One of the biggest challenges that Patricia recognizes is the very fact of being Latina, there is still a misperception about who we, Latinos, are and what we contribute to this great country.  Patricia has witnessed those who judge by appearances, simply because they are different.  One of the goals that Patricia and her team have set for themselves is to be able to cultivate the great culture and values that this community has, to promote it through events in the community and segments on television and social networks to allow young people, and all Hispanics, to enjoy the roots of where we come from.  This effort to promote our culture has also been the goal of other media sources such as El Latino San Diego and Celebrando Latinas with Fanny Miller, Radio Latina, Univision Radio, and others.
A vision for the future
Patricia is preparing for a new phase in her career, one of growing the production area of Energy Communications, providing services to organizations and companies to give life to the message they want to share to the Hispanic market and being the vehicle both on television and in social networks with that Hispanic heart, experience, and vision.
Above all Patricia thanks God for the opportunity to be here today, and she does not fail to recognize Televisa, Mr. Emilio Azcárraga, Pepe Bastón, and Mr. Félix Araujo, who saw and placed their trust in her to be able to represent them with integrity.
In this month of September, the month where we celebrate Hispanic heritage, we recognize Patricia Álvarez de Los Cobos for being a true pioneer in the Hispanic media, for her optimism and leadership with which she continues to demonstrate the contributions we bring to our country.
"My message to all of us who are Latinos, take advantage of being Latino, it is a great opportunity in this country to be Latino. It doesn't mean you were born somewhere in Latin America. Being Latino means that you honor your values, what you learned, your culture, that you can speak your language, and that you are always a worthy representative of who we are."