Alejandra Sotelo Solis ~ Not Afraid to Shine
By Jennifer Bustamante
Shine Your Light Unapologetically- In a nutshell, this is how Alejandra Sotelo Solis wears her favorite pair of shoes, a shiny pair of vintage inspired pumps that reflect her light inside and out. We met with Alejandra to talk about shoes, heels and the story behind them. She found this pair of heels while looking for the right pair of shoes to wear to her swearing in ceremony as Mayor of National City. With a state of mind based on reaching the pinnacle of a tough electoral race, these shoes spoke deeply to her. Alejandra has always been known for her larger than life personality, positivity and empowering attitude. We explored her journey to leadership that began when she was just a girl growing up in South Bay's bayfront with the dream of becoming Mayor of the city she loves. A third generation resident of National City, Alejandra is a product of the communities she serves, and from an early age she has learned that the only way to make it through is together, as the slogan of her Office of the Mayor states: "Together We Can". 
Red lips and big smiles are her signature, she shines as bright as her shoes wherever she goes. But don't let her vivacious and high energy personality fool you, she has iron strength built by her ability to overcome high levels of pressure. In 2018 after her election to the Mayor's office, the toll of a political race proved to be only the beginning of a series of personal challenges added to the demands of her new role. In January of 2019, she received a call during her first official meeting with the Sweetwater Authority to inform her that her father in-law had been a victim of a hit and run driver. Much of her time now required her to be at emergency rooms and hospice, and eventually helping the family cope with his passing. That fall she was diagnosed with skin cancer, one of the most aggressive forms of cancer. Luckily it was identified early on thanks to a community member who urged her to have a mole checked. This experience forced her to slow down and take care of herself, and for her it was hard because she knew she had to heal quickly as she was also running the city and taking care of her kids. But life did not stop, in early 2020 she faced the passing of her "Tata" as she lovingly calls her grandfather, and in October her own father was sent to the emergency room from a stroke caused by a brain tumor from which he recovered. In March of 2020, like all cities, she was faced with leading her city through the pandemic right after her inaugural State of the City Address where she had shared her dreams and vision for her community. The pandemic threw a wrench at all her plans, but she immediately adjusted and stepped up to the plate seeking resources and implementing policies to alleviate her city's pain seeking to increase the value of essential workers who make up a large demographic of National City.
She is a strong leader that fights for equality for her community and a higher living standard for the hard working families she has come to love. She not only understands the value of connectedness, but she lives it through her family and her community. Her leadership proved to be above and beyond standard when she accepted to be a volunteer to test the Covid-19 vaccine trials from UCSD. This unusual act of courage caused her community to trust her and when the vaccine became available they were more open to move forward with greater confidence, including her own father after his brain tumor incident.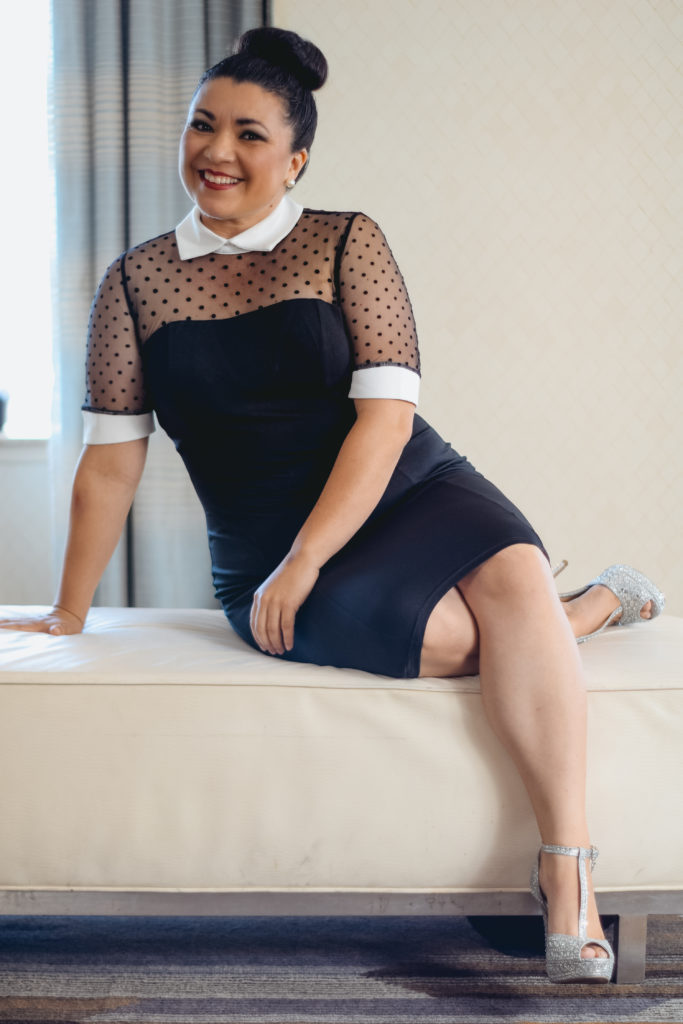 When it comes to walking in her shoes, there is no better way to describe her aura than in the image of her favorite shoes. Internally made of iron to handle the weight of her responsibilities, and the external light of its mirrors and crystals held together by a heart. Like the mirrors in her shoes, she is transparent, what you see is what you get; but she is also vulnerable, like glass, as she puts everything on the table for her goals. Highly criticized for her bigger than life personality, she does not let it dampen her spirit, it only makes it stronger. Her message to our Latina readers is plain and simple: "Get to know people, have a conversation. You can learn more with your mouth closed and your ears open. And be ok with knowing that there's people that you will never impress. Always strive for your goal, there are many of us cheering you on, we believe in you". We celebrate Mayor Alejandra Sotelo Solis for sharing her light with us.