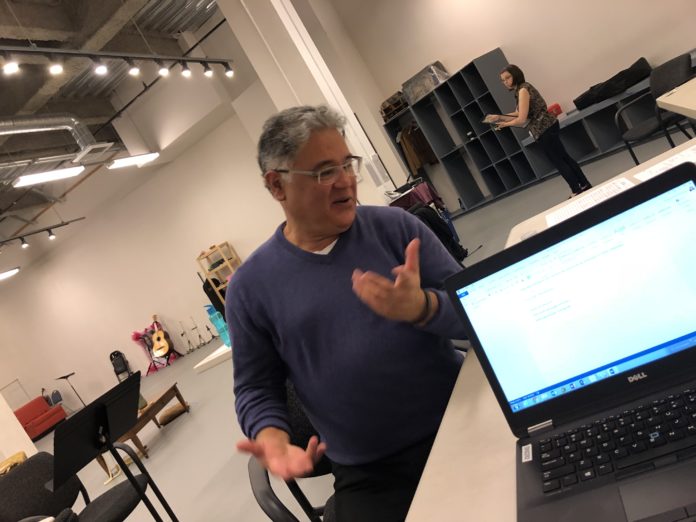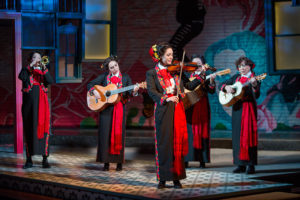 Writing in English or Spanish- I live in the two worlds- I'm not a master on either language but I am trying to find a way to speak how we speak. Jack of all trades, master of none. I was born in Calexico, California. I still have family in Mexicali, I have four brothers, my dad was a farmworker and after my dad passed away my mom moved, so my early home was a Brasero bed, we grew up with my mother and grandparents. My mom was a "fresera", I was a "fresero" then a "canner". I was a farmworker until I went to college. Growing up in that environment, it was during that time that one of the things I loved about my grandparents, they told stories, jokes, and songs during work. That rubbed off on me. When I was old enough I moved to San Diego to study at UCSD and it was there that I met Jorge Huerta, the first Chicano to get a PhD. in theatre. I took his class and he opened my eyes. My Major at UCSD was U.S.  Chicano Studies, but out of that, I continued to study theatre at Arizona State University where I got my Master's Degree. Jorge Huerta introduced me to Teatro Campesino, right in my backyard. That's when I knew what I wanted to do. In 1980 I got to see Zoot Zoot- they went to the Aquarius Theatre for a year then to New York. I saw it in Aquarius and it was the first time I saw white people with Latinos in the audience, Diane Rodriguez, Jose Delgado, Linda Rosandt- seeing this influence of Latino artists where I fell right into it- and it thought to myself "I can do this".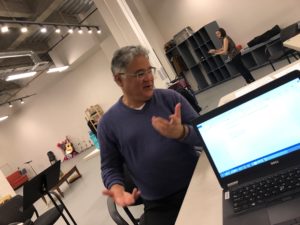 Eventually, I came to California to UC Irvine, to get a Masters of Arts in Film for directing. At the time I worked at South Coast Repertoire where I was production assistant, got to see directors doing new plays. I kept cultivating South coast, they nominated me for the National Endowment for the Arts Directing Fellowship, that year I was an Assistant Director, and we put some sort of cultural fest for Latino playwrights- The question was, Is there latinos writing plays? I crossed my fingers and said yes. We called for writers and we got enough attention to bring people from all around the U.S. We got submissions from names such as Arturo Giron, and Luis Alfaro. This launched my career at South Coast Repertoire. These Playwright Authors now work professionally all over the country and that makes me happy and proud. My journey came to a crossroad in 1995. I had spent 10-11 years at South Coast Repertoire so I took a year of absence and by then I was already teaching at Cal State, Los Angeles where I was overseeing the play festival, calling for scripts, writing for young audiences. I submitted The Highest Heaven, and long and behold it was taken to the Kennedy Center- I didn't know the world but I stepped into it. Huracan, young boy, 1930's, repatriated with his family in Mexico, the journey of him trying to get back to his home in the US. What's gonna happen to this play, I don't think anything, 6 months later the play got picked up in Arizona, and 7-8 plays for young audiences. Tomas and the Library Lady, based on the life of Pat Mora, a young kid from farmworker parents, still gets produced around the country as well as The Sun Serpent– based upon children who survived the conquest of the new world.
So I'm running these two parallel worlds of writing for children and adults and in the midst of Latino writers producing edgy urban storytelling,  I wanted to go back to the roots. I think American Mariachi is the sum of all those years of my life and theatre experiences. The play was commissioned by the Denver Theatre Center for the Performing Arts, 2014 and it is co-produced by San Diego's Old Globe Theatre; I was interested in writing about women in Mariachi, it took about 4 years to arrive at that; for dramaturgs, audience focus groups; until it opened four years later this past February. It portrays a compelling story that right now I think is universal and I think it's timely, given the political stage where Mexicans are depicted as the scapegoats- this is saying no, you misjudge us- this is at least an aspect of who we are. It is written for the people who never get to see their story. In American Mariachi you see a family with the challenges of life, paying bills, making it, raising a family- just like any other family. The dad works in a restaurant during the day and at night he is a mariachi. Music is important to this family that is held together by the mother who is fighting dementia, the daughter recruits her cousin to search for other women to create a Mariachi group to sing to her ill mother. It speaks of the passage of the music from men to women, and particularly Mariachi music which is the fabric of the Mexican and Mexican-American culture, it is built on our DNA, it is played at every rite of passage baptisms, quinceaneras, weddings, even funerals- I believe this is what resonates with audiences. It is also the empowerment of women, in the 70's, the period the play is staged in, women began to play music, we are dealing with a culture where women are not permitted to do certain things, the women in the play each face the various challenges to accomplish their dream so against all odds they go out and do it. It's about finding their voice– through their singing voice they really find that voice that was repressed, and they do it together as women.
The future for me drives me to continue writing for our Latino audience, telling their stories so that they see their lives reflected as they are truly lived. In this there is power, particularly for Latina women for whom this play is principally written.