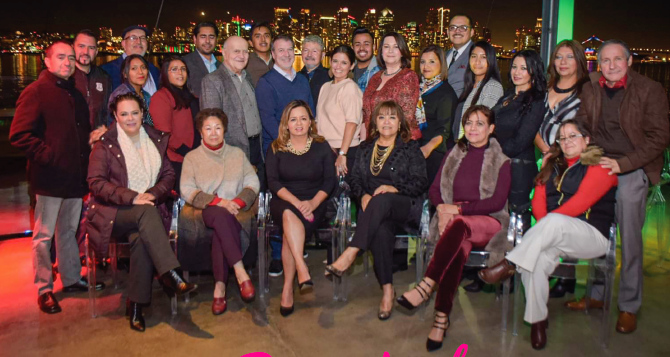 Tras Bambalinas
Como ya es costumbre nos fuimos a celebrar las fiestas decembrinas con todo el equipo de El Latino y Celebrando Latinas, se nos va haciendo una costumbre ir a Coasterra al lado de la bahía, en donde se tienen las vis-tas más hermosas de San Diego. Fue una noche más que placentera, una noche de amor y de reunión con compañeros de trabajo que se han convertido en familia. Tras bambalinas también nos divertimos con el concierto de "Los Solitarios" en Viejas Casino, un excelente lugar para concierto y para pasar un fin de semana entre amigas o con la familia! Por otra parte les contamos que ya comenzamos a trabajar en Celebrando Latinas la conferencia, pronto tendremos noticias, apunten en sus calendarios, la cita es el 1 de agosto y aquí iremos dando unos avances. Lectoras y lectores muy Feliz Año Nuevo 2020!
Back Stage
Like every year we celebrate the holidays with the entire team of El Latino and Celebrando Latinas, we are making a tradition to go to beautiful Coasterra next to the bay, where you have the most beautiful views of San Diego. It was a more than pleasant night, a night of love and reunion with coworkers who have become family.
Behind the scenes, we also had fun with the "Los Solitarios" concert at Viejas Casino, an excellent place for a concert and to spend a weekend with friends or family!
On the other hand, we want to share with you that we have already start-ed working at Celebrando Latinas our yearly conference, soon we will have more news! write down your calendars, August 1 is the date. Let's make of 2020 the best year of our lives!